Meet the Chaplain
The University Roman Catholic Chaplaincy in Amsterdam is an initiative of the Haarlem-Amsterdam Diocese. The Chaplaincy works on the UvA, VU, AUC and HBO campuses to provide community resources, pastoral counselling and fellowship to students, faculty and staff.
Until February 2023, Dr. Wim Veth was student chaplain in Amsterdam. Because he moved his priestly work to Utrecht and Brabant, the Bishop of Haarlem-Amsterdam resigned him in the most honorable manner. As of February 2023, priest Eugen Graas succeeded him.
The chaplain provides sacramental and formational services for all interested. In addition to these services, he works in conjunction with the Amsterdam Catholic Communities and Parishes to put on a variety of events such as social nights, retreats, reconciliation services and speakers. The chaplain works at Onze-Lieve-Vrouwekerk. Weekday masses are provided here. A Saturday Mass and a Sunday Mass in English is celebrated at 6 PM at the Onze-Lieve-Vrouwekerk.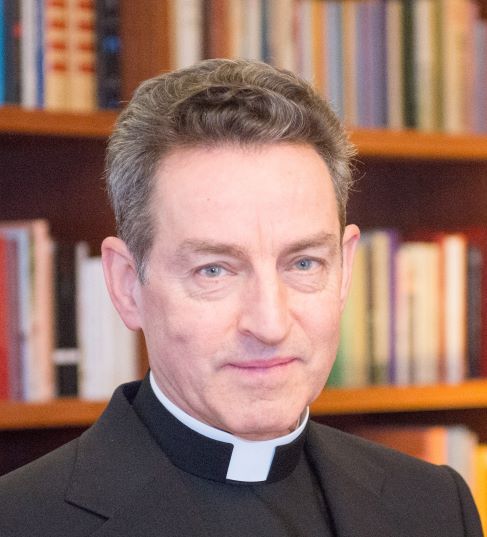 Fr. Eugen Graas studied Law at the University of Amsterdam, lived there many years, and has also worked as a lawyer. He studied theology at the University of Navarre where he also received his doctorate. He works at the Church of Our Lady (Onze-Lieve-Vrouwekerk). Fr. Eugen is a priest of the Prelature of Opus Dei, an institution of the Catholic Church.
You can reach him by phone or mail (see below) for any matter or make an appointment at the Onze-Lieve-Vrouwekerk. Online talks are possible too, of course.
The time table of Holy Masses
Monday - Friday: 12:15 pm and 19:30 pm (chapel: Keizersgracht 218 B)
Saturday: 6 pm (in English, in the church: Keizersgracht 220)
Sunday: 11:15 am (church) and 6 pm (in English, in the church)
There is always a priest available half an hour before and after each Mass for Confession (also in English).